IDA Calendar of Events
2014-11-24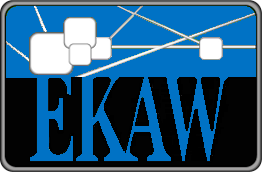 EKAW 2014 - 19th International Conference on Knowledge Engineering and Knowledge Management
Conference
2014-11-24 -- 2014-11-28
EKAW 2014 is concerned with all aspects of eliciting, acquiring, modeling and managing knowledge, and its role in the construction of knowledge-intensive systems and services for the semantic web, knowledge management, e-business, natural language processing, intelligent information integration, etc. The focus of the 19th edition of EKAW will be on "Diversity". In addition to the main research track, EKAW 2014 features a tutorial and workshop program, a doctoral symposium as well as a poster and demo track.
Location:
Linköping konsert & kongress
See
http://www.ida.liu.se/conferences/EKAW14/home.html
for further information or contact Patrick Lambrix, email
Patrick.Lambrix@liu.se
, phone 013-282605.
2014-11-29
NWERC
2014-11-29 09:00 -- 2014-11-30 17:00
NWERC is an official regional contest in the ACM International Collgiate Programming Contest. It draws students from colleges and universities throughout Belgium, Luxembourg, Great Britain, Ireland, Iceland, Norway, Sweden, Finland Denmark, Germany and the Netherlands. The winning teams will advance to the ACM Programming Contest World Finals.
Location:
IDA
See
http://nwerc.eu
for further information or contact Fredrik Heintz, email
fredrik.heintz@liu.se
, phone 013-282428.
2014-12-01
Zlatan Dragisic's licentiate seminar
Seminar
13:15
Zlatan Dragisic, ADIT, IDA, presents his licentiate thesis "Completing the Is-a Structure in Description Logics Ontologies". Main Supervisor: Professor Patrick Lambrix. Opponent: Professor Guilin Qi, Southeast University, Nanjing, China
Location:
Alan Turing, building E, Campus Valla
See
http://urn.kb.se/resolve?urn=urn:nbn:se:liu:diva-110935
for further information or contact Anne Moe, email
anne.moe@liu.se
, phone +4613281460.
Calendar of Events
---
See also...
---
Page responsible: Webmaster