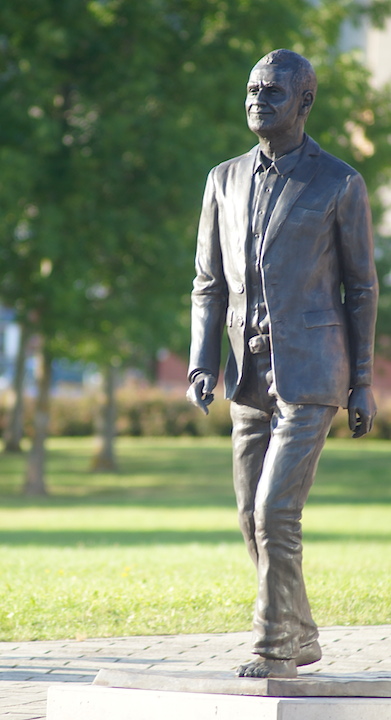 Leaving traces
Professor Emeritus Erik Sandewall has had a pioneering role at Linköping university and the Department of Computer and Information Science (IDA), as the first professor in computer science in Sweden, and one of the founders of the department. The traces left behind and the road ahead are visualised in a statue that was raised to honour Erik Sandewall and the birth of computer science in Sweden.
Citations
The statue has some citations among Erik's traces:
due nuove scienze (Galileo Galilei)
omnia mirari, etiam tritissima (Carl Linnaeus)
cogito ergo sum (René Descartes)
ek veit einn, at aldri deyr (The Poetic Edda)
The inauguration
The statue was inaugurated on August 20, 2014.
Erik held a speech at the occasion: Leaving Traces — Words on the Road.
Location
The statue is located outside of IDA, at Building E, Campus Valla, Linköping
The sculptor
Johan Malmström graduated at The Royal Institute of Art in Stockholm in 1994. He has since then worked as an artist and a teacher.
About the making of the statue (PDF)
More about...
Page responsible: Andreas Lange
Last updated: 2014-09-09