Welcome to the Department of
Computer and Information Science
Olaf Hartig has received the 10-Years Award of the Semantic Web Science Association. This annual award recognizes a research paper that has become the most influential work of all papers published ten years ago in the respective edition of the International Semantic Web Conference (ISWC).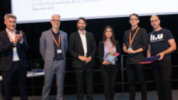 Robin Keskisärkkä and Olaf Hartig won the Best Paper Award for their paper "RSP-QL*: Enabling Statement-Level Annotations in RDF Streams" co-authored with Eva Blomqvist and Leili Lind (from RISE)!

After a long week it might be nice to collapse on the couch and stream a film. If you are not feeling well, it's a reassuring that you can contact a doctor. Every day we use countless services, but much is still unknown about how changes in services come about. In his thesis, Tim Overkamp has developed two ways to frame and address how services are transformed and how designers can contribute to such changes.
Page responsible: Webmaster