Welcome to the Department of
Computer and Information Science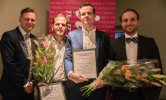 Two Information Technology students, Rasmus Lindström and Nicklas Östman, were awarded the best Master thesis prize for their work on how agile development scales in different types of organisations. The prize was awarded by ITSM, the knowledge network for active professionals within IT service management.

IDA's departing head of the department, Professor Mariam Kamkar, was honored at a ceremony held during the institution's Christmas dinner. Mariam took office in 2000, and by the end of 2017/2018 she will have been prefect for 18 years, more than half the time that IDA has existed. In 2008, she was the inaugural recipient of the University Leadership Prize.

Online video streaming has gained tremendous popularity over recent years and currently constitutes the majority of Internet traffic. In his PhD thesis, Vengatanathan Krishnamoorthi addresses open research questions that helps improve users' video streaming experiences and presents optimized delivery solutions that enables tomorrow's interactive streaming services.
Page responsible: Webmaster