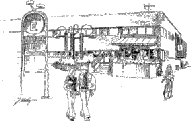 IDA - The Department of Computer and Information Science
Research at IDA covers a broad spectrum of topics from core computer science to applications, including theoretical computer science, programming environments, software engineering, real-time and embedded systems, artificial intelligence, information security, databases, information systems, computational linguistics, cognitive science, interaction and service design, autonomous systems and statistics.
Our broad research base directly enriches our undergraduate and graduate education. We give courses within most engineering programmes, several Master programmes, as well as the programmes for innovative programming, cognitive science and statistics.
The Department of Computer and Information Science was founded in 1983, but the roots go back to the early seventies. It is one of the largest departments for computer and information science in northern Europe, with 190 employees of which 68 are faculty members (PhDs), including 26 full professors. Approximately 70 postgraduate students are enrolled in the department's PhD programmes, including two thirds doctoral students holding salaried positions.
Henrik Eriksson
Head of Department
Page responsible: Webmaster
Last updated: 2018-01-02