Final Theses - IDA
Winner 2003
IDAs pris för bästa examensarbete/uppsats 2003
Sponsor
Dataföreningen i Sverige Östra Kretsen Det aktuella totala stipendiebeloppet för IDAs pris 2003 var fastställt till SEK 5000.
Promotor
Årets promotor var
Erik Larsson
. Stoppdatum för nomineringar var den 4 mars.
Pristagare
Pristagaren utnämndes den 11 mars 2004 i samband med Dataföreningens i Sverige Östra krestsen årsmöte på Östgöta Correspondenten i Linköping.
Tobias Chyssler, "Reducing false alarm rates in intrusion detection system". Examinator: Simin Nadjm-Tehrani
Motivering:

"Tobias Chysslers examensarbete kombinerar praktisk problembehandling och problemlösning med god systematisk behandling av uppgiften, det vill säga, arbetet kombinerar både god ingenjörsmässighet och vetenskaplighet. Förutom att rapporten är välstrukturerad och välskriven visar den även på ett tydligt intresse och engagemang för arbetet".
-- dr Erik Larsson, IDA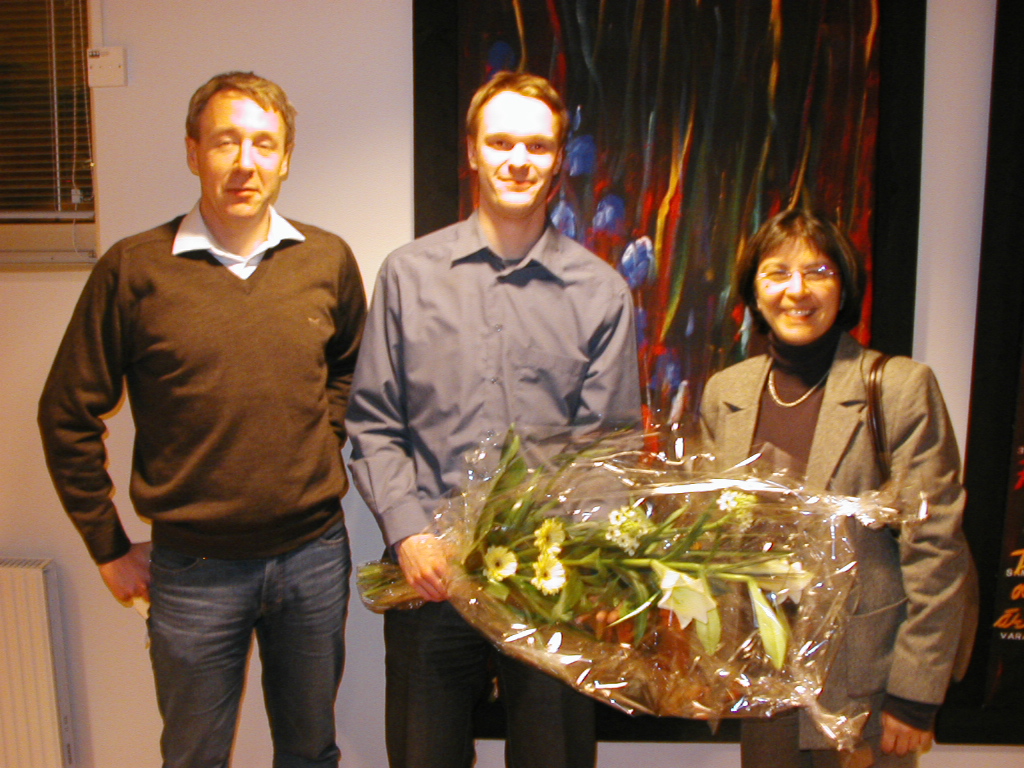 Erik Larson (conferrer of the prize 2003), Tobias Chyssler (prize winner) and Simin Nadjm-Tehrani (Tobias' examiner)
Nominerade
"Den komplexa väven - att införa ett standardsystem i organisationen" av Fredrik Eliasson och Mattias Johansson.
"Användarmedverkan i teori och praktik - användares och verksamhetslednings attityder kring medverkan vid framställning av systemfunktionalitet" av Henrik Dahlström och Jenny Karlsson.
"Reducing false alarm rates in intrusion detection systems" av Tobias Chyssler
"Design and Implementation of Accounting and Status Notification for the LPRng Print Spooler" av Henrik Edlund
"Service Discovery in Peer-to-Peer Networks" av Daniel Elenius
"Direkttextning av tv-program med taligenkänning" av Mattias Eriksson och Michael Bjersander
Allmän information om IDAs pris för bästa examensarbete/uppsats.
Page responsible: Final Thesis Coordinator
Last updated: 2005-03-08