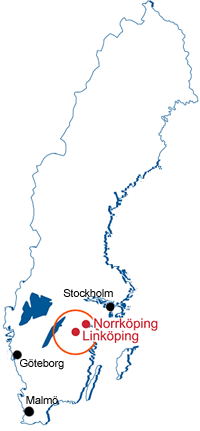 Local Information
How to reach the venue of HLPP-2019 HLPP-2019 will be held in rooms in <!a href="http://www.ida.liu.se/department/location/location.en.shtml?login=krisa">Building B, Campus Valla, Linköping University, Linköping, Sweden.
Linköping is situated in southern Sweden, 200 kilometres south of Stockholm. The Copenhagen-Stockholm link of the central European railroad trunk passes through the city, as does the arterial Euro-Highway E4. By Air
For air travel from/to central Europe it is often most convenient to fly directly to/from Linköping City Airport (LPI), which is almost within walking distance from the city center and has several regular daily connections to Amsterdam Schiphol airport (AMS), which takes about 100 minutes flight time; in summer also two weekly connections to Prague.
From Linköping City Airport, take a taxi to the city center or to the university, there are no public transport connections. The cheapest alternative is to take a taxi downtown to "Resecentrum", and from there continue by bus to their final destination, see below. We recommend to book a taxi in advance, see below.
The second closest airport is Norrköping Airport (NRK), about 50km away - with currently (18/2/2019) only charter flight connections to international destinations.
If arriving at Norrköping International Airport (NRK) you may continue to Linköping by taxi if time is short. When planning to leave Linköping for the Norrköping airport make sure to book an airport taxi to Norrköping Airport in advance through a travel agency or SAS booking office. In that way you can get a reduced fee. It is also possible to continue to Linköping by commuter bus or train, but in that case you must first take a taxi to downtown Norrköping (five kilometers). Commuter bus 49 (?) will take you to Linköping. Trains also run regularly.
Well suited is also the Stockholm-Skavsta airport (NYO) in Nyköping, located just half-way between Linköping and Stockholm, which has daily flight connections from various places in Europe by low-fare airlines, and is only 90 bus/car minutes from Linköping.
From Nyköping-Skavsta (NYO), take the airport bus to Linköping (90 min, approx. 150 SEK) that departs in front of the terminal and arrives at the Linköping long-distance bus terminal close to the train station (Resecentrum). Note that you can buy the bus ticket (recommended to buy a return ticket) at a counter in the arrival hall or beforehand on the web, but not in the bus itself.
Stockholm Arlanda Airport (ARL) is the largest airport in Sweden with many international connections but requires an almost 3 hours ride by train (if on time) or car to/from Linköping.
Likewise, Copenhagen Airport (CPH) has many international connections and to/from Linköping it takes about 3.5 hours by train, if there are no delays.
By Train
Linköping can be reached by train from Copenhagen in about 3.5 hours and from Stockholm in less than two hours (if on time). See e.g. the SJ web page for connections.
In both Linköping and Norrköping, the train station is situated within a ten-minute walk from the city centre.
In Linköping as well as many other cities in Sweden, train tickets can no longer be purchased at a counter in the train station (!), only on the web, see e.g. SJ (Swedish railway services), or Deutsche Bahn for international connections. However, you can buy train tickets (for trips within Sweden, at least) in the Pressbyrån shop in the train station too.
By Local Bus in Linköping
There are regular bus connections from Linköping train station (Resecentrum) to the main university campus (Campus Valla). E.g., take bus 12 towards Lambohov or bus 20 to the campus. Leave the bus at bus stop Mäster-Matthias-väg (it is one bus stop after the one called Golfbanan) and walk east, across the parking lot.
Alternatively, bus line 4 can be taken from resecentrum, leave at bus stop Nobeltorget and walk north (sports hall Campushallen to your right).
NB - Bus tickets cannot be purchased in the bus. With a swedish mobile phone subscription, you can pay the fare by SMS (see instructions at the station) just before entering, or purchase in the Pressbyrån shop or at the Östgötatrafiken counter at the train station a pre-paid card (resekort) from which the fare will be deduced (using an automaton in the bus, choose the "Vx" (vuxen/adult) fare button, hold your card against the RFID sensor field and wait for the OK signal. Make sure to not remove the card from the RFID sensor field too early.) See also Östgötatrafiken for further information.
By Car
Coming from Jönköping or from Stockholm on the E4, leave at Linköping West (that's the first stop of Linköping if coming from south-west or the last stop if coming from north-east). Follow the signs to University. You will drive on a still four track motorway for about 4km. Then you reach a huge roundabout, the Valla rondellen. Here you take the first exit to the right, again direction University. Continue straightforwardly after the following small roundabout. Enter on entrance 2 of the university (it is the second one on the left). Go straight ahead across a crossing, and you should enter a large parking lot. Find a place. NB - the parking row closest to the Zenit house costs a fee.
By Taxi
A taxi ride from Linköping central station or the city center to the symposium venue takes about 10 minutes and costs approximately 200 SEK.
We recommend that you book your taxi in advance, e.g. from Taxikurir or Taxibil i Östergötland:
www.taxikurir.se (click "Boka taxi", then choose English language), phone +46 13 150000
www.taxibil.se (apparently available in Swedish only), phone +46 13 146000

For a trip from the airport, the start address is "Linköping City Airport, Linköping".
Caution:
Some of the taxis waiting in line at the airport for non-prebooked travelers may charge quite high prices. Swedish taxis have to display their price for a "benchmark" tour on the passenger-side window for comparison, where "normal" prices are currently up to ca. 370 SEK. Expect about 160-200 SEK for a taxi ride to a hotel in downtown Linköping. Taxis generally accept major credit cards, but usually not "Maestro".
To the HLPP Lecture Room
Campus Valla
HLPP will take place at the Department of Computer and Information Science (IDA) in rooms located in the B-house.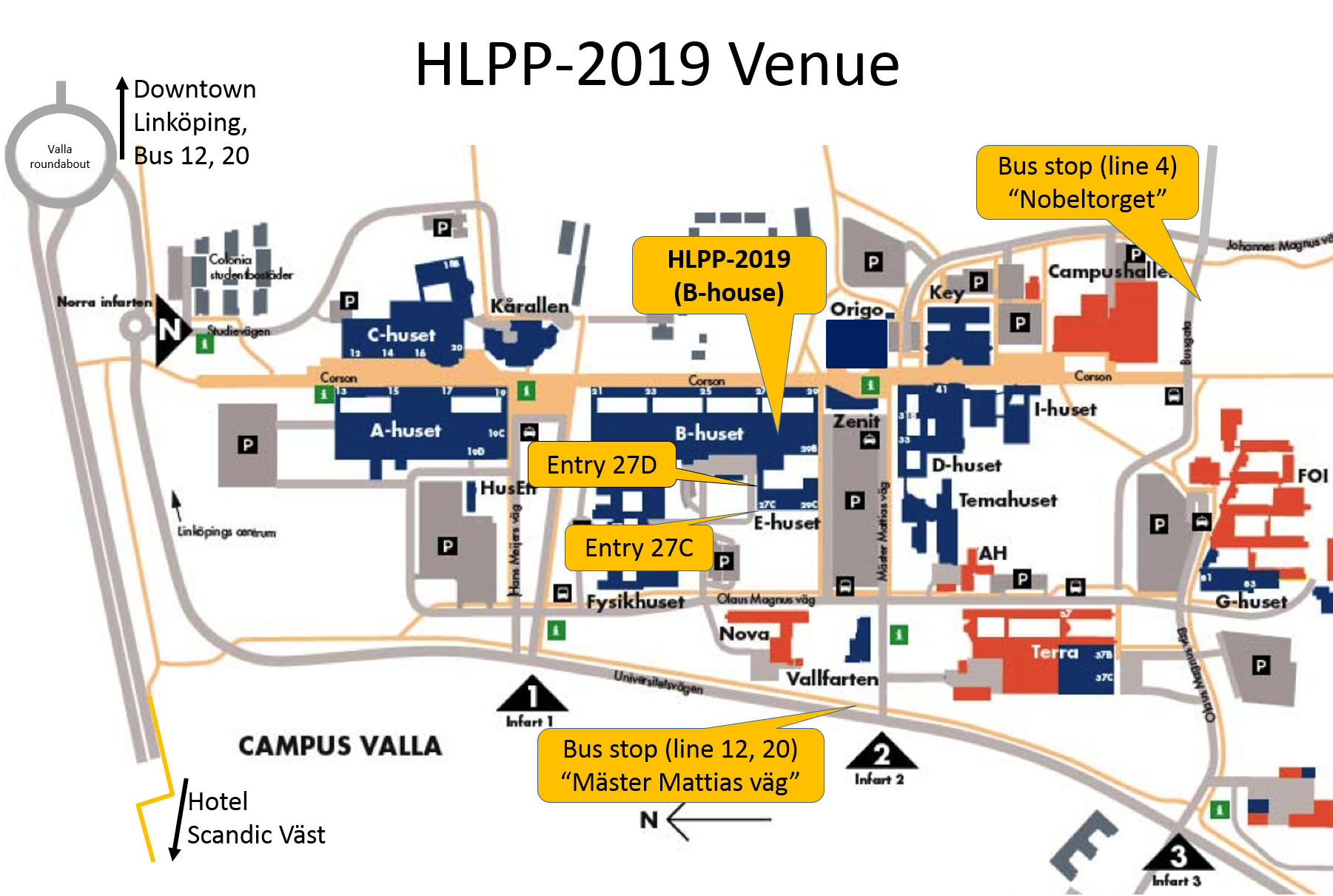 If coming from the Mäster-Mattias-Väg bus stop to the central parking lot, the B and E houses should be on your left, two connected 2-level red-brown buildings. Enter the B-house through the E-house, entries 27C or 27D. See the map and the instructions sent out to registered participants.
For more informations on directions see also the LiU maps page.
Accommodation
This is a list, in no particular order, of those hotels in/near Linköping with which Linköping University currently has contracted room rates. All prices below are LiU-specific room rates as of autumn 2018 and in Swedish Krona (SEK), excluding VAT (12%).
Currently (May 2019), 1 EUR = 10.7 SEK approximately.
Major credit cards are usually accepted.
| | | | | | | | | | | | | | |
| --- | --- | --- | --- | --- | --- | --- | --- | --- | --- | --- | --- | --- | --- |
| Hotel: | Hilma Winblads bed and breakfast | Sky Hotel Apartments | Linköpings cityhotell & Vandrarhem | Fawlty towers | Best Western Hotel Linköping | Scandic Linköping Väst | Sure Hotel by Best Western Stångå | Hotell Ekoxen | Best Western PLUS Priceless Hotel | Scandic Frimurarhotellet | Scandic Linköping City | Elite Stora Hotellet | Quality Hotel The Box |
| Price for 1 person*: | 780 | 884 | 826 | 776,79 | 978 | 946 | 850 | 990 | 1026 | 1018 | 1063 | 1063 | 929 |
| Total price f. 2 persons in same room (double): | 1048 | 951 | 938 | 955,36 | 1156 | 1125 | 1000 | 1168 | 1205 | 1196 | 1241 | 1241 | 1107 |
Breakfast is generally included in these prices, but not the VAT (12%).
The prices are special room rates for LIU guests and may differ from the prices that you find on the web. Please mention Linköping University when booking (directly at the hotel).
* Prices for 1 person in 1 room (single or double room).
Additional discounts can apply if staying for 7 days or longer, please ask at booking.
Other local information
Sweden is in the Central European time zone. The local currency is the Swedish Krona (SEK), the current exchange rate (May 2019) being 1 EUR = 10.7 SEK approximately. Purchases are commonly made by debit or credit card, even for small amounts, and cash is not accepted everywhere. Visa and MasterCard are widely accepted. Support for Maestro has improved over the years but is less common.
Page responsible: Christoph Kessler
Last updated: 2019-06-26