Welcome to the Department of
Computer and Information Science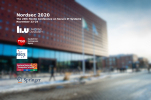 This year the 25th edition of the Nordic Secure IT Systems conference (NordSec) is organised in Linköping on 23-24th November. Amid the virtual format the number of participants is at an all time high, and invited speakers from US and the European agency ENISA open each day.

Alexander Karlsson has received the Christer Gilén scholarship in Statistics and Machine Learning 2020 for the master's thesis "Improving predictions of muscle mass from an impedance device - Cross-calibration of bioelectrical impedance analysis and dual Xray absorbiometry using a Bayesian approach".

The need for statistical analyses of images and spatial data arises in many areas. The ever-increasing sizes of these datasets pose a great computational challenge. In his thesis, Per Sidén has developed more scalable and advanced statistical methods for spatial data, with applications for brain imaging, satellite images, and robotics.
Page responsible: Webmaster