Welcome to the Department of
Computer and Information Science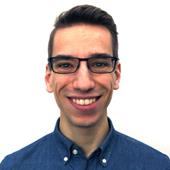 After a long week it might be nice to collapse on the couch and stream a film. If you are not feeling well, it's a reassuring that you can contact a doctor. Every day we use countless services, but much is still unknown about how changes in services come about. In his thesis, Tim Overkamp has developed two ways to frame and address how services are transformed and how designers can contribute to such changes.
Oleg Sysoev together with his co-authors is a winner of the Society for Mathematical Psychology award for the most outstanding paper published in the Journal of Mathematical Psychology in 2016-2019: M.L. Kalish, J.C. Dunn, O.P. Burdakov and O. Sysoev (2016). A statistical test of the equality of latent orders. Journal of Mathematical Psychology, 70, 1-11.

Bud was a pioneer in computing technology and he made several significant contributions to the industrial and academic sectors. During his long career, he participated in several pioneering developments in software, hardware, computer-based systems and international standards.
Page responsible: Webmaster