Final Theses - IDA
Competition 2007
IDAs pris för bästa examensarbete/uppsats 2007
Sponsor
Dataföreningen i Sverige Östra Kretsen. Det aktuella totala stipendiebeloppet för IDAs pris 2007 är fastställt till SEK 5000. Se även allmän information om IDAs pris för bästa examensarbete/uppsats.
Promotor
Årets promotor är
Juha Takkinen
. Stoppdatum för nomineringar är den 6 februari.
Pristagare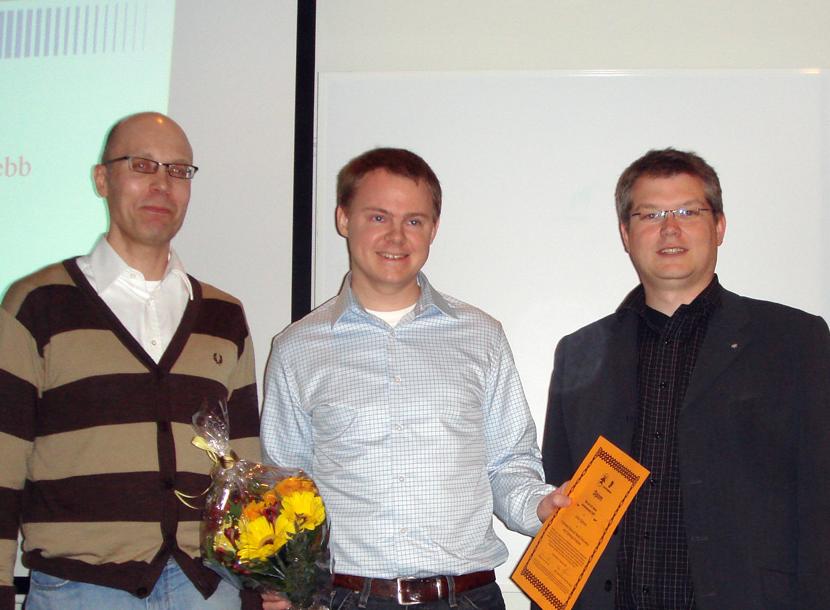 Dataföreningens Sverige Östra Kretsen ordförande Joakim Nejdeby (till höger) samt den glade pristagaren Johan Sigholm (till i mitten) och promotorn till vänster.
Årets 2007 vinnare är:
Johan Sigholm, med rapporten "Automated Network Node Discovery and Topology Analysis", utförd inom Datateknikprogrammet.
Examinator var Simin Nadjm-Tehrani, SaS/IDA.
Motiveringen lyder:
"Johan Sigholm har på ett självständigt, strukturerat och ingenjörsmässigt sätt tagit sig an uppgiften att automatisera upptäckt av noder och analys av topologi i nät. Funktionaliteten har han på ett imponerande sätt infört i ett företags produkt och framgångsrikt demonstrerat för en kund. Arbetet, som även har presenterats i en vetenskaplig workshop, visar även på en genomtänkt pedagogisk disposition."
Priset delas sedan ut i samband med Dataföreningens årsmöte onsdagen den 27 februari, som i år (2008) hålls på Pronova konferens i Norrköping. Se även Dataföreningens webbplats.
Nominerade
De nominerade är (uppdateras kontinuerligt till och med stoppdatumet):
Dan Adolfsson: "Improved scan cahin diagnosis". Examinator: Erik Larsson.
Johan Sigholm: "Automated Network Node Discovery and Topology Analysis". Exmainator: Simin Nadjm-Tehrani.
Page responsible: Final Thesis Coordinator
Last updated: 2008-03-27