Final Theses - IDA
Winner 2004
IDAs pris för bästa examensarbete/uppsats 2004
Sponsor
Dataföreningen i Sverige Östra Kretsen. Det aktuella totala stipendiebeloppet för IDAs pris 2004 är fastställt till SEK 5000.
Promotor
Årets promotor var
Lena Strömbäck
. Stoppdatum för nomineringar var den 31 januari.
Pristagare
Pristagaren, som utnämndes den 15 mars 2005 i samband med Dataföreningens i Sverige Östra krestsen årsmöte på IT-ceum i Linköping, var:
Stina Edbom, "An integrated Technique for Memory Depth Constrained Test Scheduling and Test Vector Selection". Examinator: Erik Larsson
Motivering:

"Stinas arbete håller en mycket hög vetenskaplig kvalité. Hon har utvecklat en teknik för att välja testfall för datorchip på ett sätt som optimerar testresultaten vid begränsat minne hos testutrustningen. Rapporten beskriver på ett mycket bra sätt relaterad forskning, hennes angreppssätt, samt en utvärdering av hennes lösning. Den vetenskapliga kvaliten på arbetet visar sig också genom att arbetet är internationellt uppmärksammat och publicerat". -- dr Lena Strömbäck, IDA, promotor 2004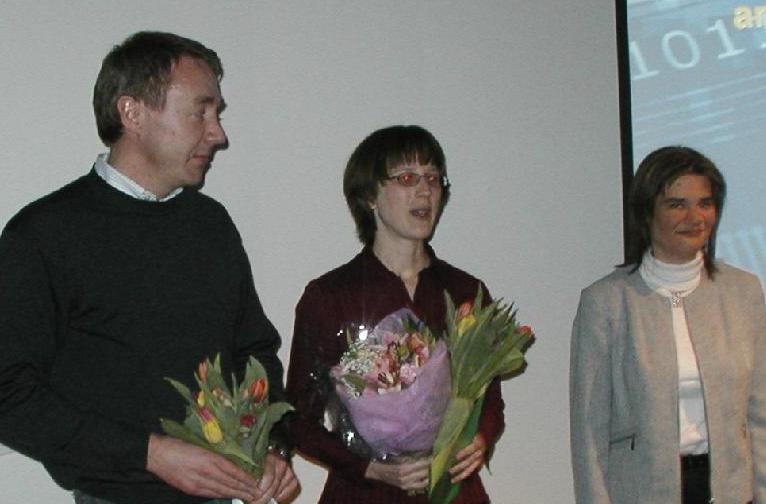 Erik Larson (examiner), Stina Edbom (prize winner) and Lena Strömbäck (conferrer of the prize)
Nominerade
An integrated Technique for Memory Depth Constrained Test Scheduling and Test Vector Selection, av Stina Edbom. Handledare och examinator: Erik Larsson.

Enterprise Application Integration: Evaluation of the T2Server Message Broker for System Integration at Tele2 AB, av Andreas Ander. Handledare: Georgia Panagou, Tele2. Examinator: Juha Takkinen.

Regional utveckling mot elektronisk förvaltning och 24-timmarsmyndigheten, av Torbjörn Ekholm och Jörgen Linde. Examinator: Tommy Wedlund.

Datorstödd musikproduktion och tyst kunnande - En studie i design för användbarhet, av Johannes Andersson och Klas Thyr. Examinator: Hans Holmgren.

Beslutsunderlag för system integration. Systemkartläggning och integrationsstrategi på Holmen Paper, av Lars Sigfridsson och Johan Wigert. Handledare: Klas Gäre, IDA. Examinator: Vivianne Vimarlund.

High-level optimizations for OPTIMIST, av Anders Edquist. Handledare: Andrzej Bednarski. Examinator: Christoph Kessler.
Allmän information om IDAs pris för bästa examensarbete/uppsats.
Page responsible: Final Thesis Coordinator
Last updated: 2006-03-10