The P2P2004 Conference will be located at the Swiss Federal Institute of Technology (ETH) in Zurich, Switzerland in the IFW building.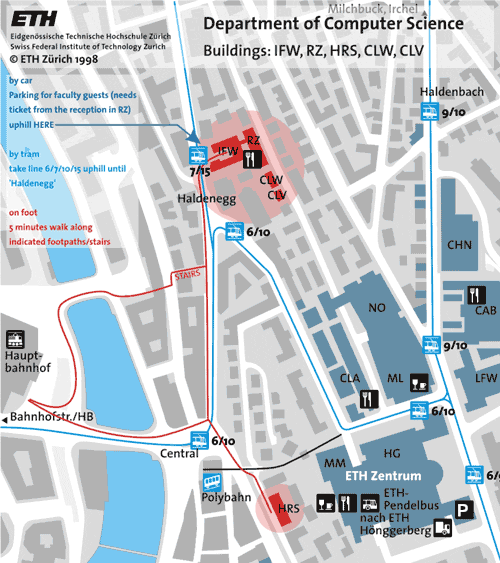 The conference itself will take place in the room A36 in the A-floor of the IFW building. If you enter IFW directly from the Haldeneggstrasse you will get in on B-floor.

The registration will also be loacated on the A-floor of IFW.

You may also want to consult the Computer Science department's (which is housed in the IFW building) visitors page.


You can best reach the University within Zurich with public transportation (ZVV/VBZ, especially the tram). 24-hour tickets for downtown Zurich cost less than 10 Swiss francs. Trams number 6, 7, 10, and 15 take you to Haldenegg, the tram stop next to IFW.
Please note also that most of the hotels we suggested are within 5-minute walking distance of IFW.
We will provide wirless network access through the ETH network. You will be provided the necessary access information during registration. More information is available on this page.
Weather forcast in Zurich. In August the weather is normally warm and sunny. But there may be short periods of rain.


Our policy is that invitation letters can be issued only to speakers, presenters, committee members, IEEE members or persons known by the organizing committee. In addition registration fees must be paid in full before the letter is provided. Letters will only be sent by Postal Mail or fax and only to the individual registered for the conference.